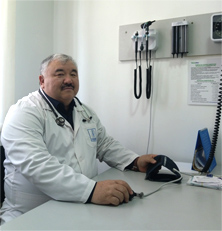 Murat Nazarovich Dzhumabekov graduated from the Kyrgyz State Medical Institute with a degree in General Medicine in 1988, and in 1989 he underwent an internship in surgery at the City Clinical Hospital No. 2.
He began his career at the City Center for Outpatient Surgery. He regularly raised his skills in the following areas:
"Outpatient Surgery",
"Thoracic Surgery";
"Training courses for managerial personnel reserve";
"Pediatric Surgery";
"Bronchial asthma in children";
"Actual problems of pulmonology and tuberculosis";
"Management in the health care system";
"Human Resource Management in Healthcare";
"The rights of the employee of the organization of health care and the consumer of medical services";
"Organizational and legal framework for the examination of temporary disability".
Being an excellent health professional, a surgeon of the highest category, and also a doctor of the highest category in the organization of health care, Murat Nazarovich knows firsthand how often people in need of treatment have many questions, and he is ready to provide free consultation for "Bailyk Finance" clients who have used the credit "Health "on emerging medical issues.